Do you know which library has the largest collection in the world?
There is a debate between the Library of Congress, United States with its estimated catalogued size at 164 million plus and the British Library, United Kingdom with its estimated catalogued size at 150 million plus.
To settle the dispute, I defer to the professionals at World Atlas. They deem the Library of Congress the largest library in the United States as well as the world. Established in 1800, the library is located in Washington, D.C. and there is a satellite campus in Virginia, the National Audio-Visual Conservation Center. The public may tour the Library of Congress. Only a select few, such as high-ranking government officials, may avail themselves of the materials.
I am lucky enough to live in Washington, D.C. and only have visited the beautiful Library of Congress once. I hope to make the time and spend a bit more time the next visit and apply for a Reader Identification Card. To learn more about the card, check the Library of Congress official Web site.
Fun fact:
Were you aware that a tunnel connects the Library of Congress to the U.S. Capitol?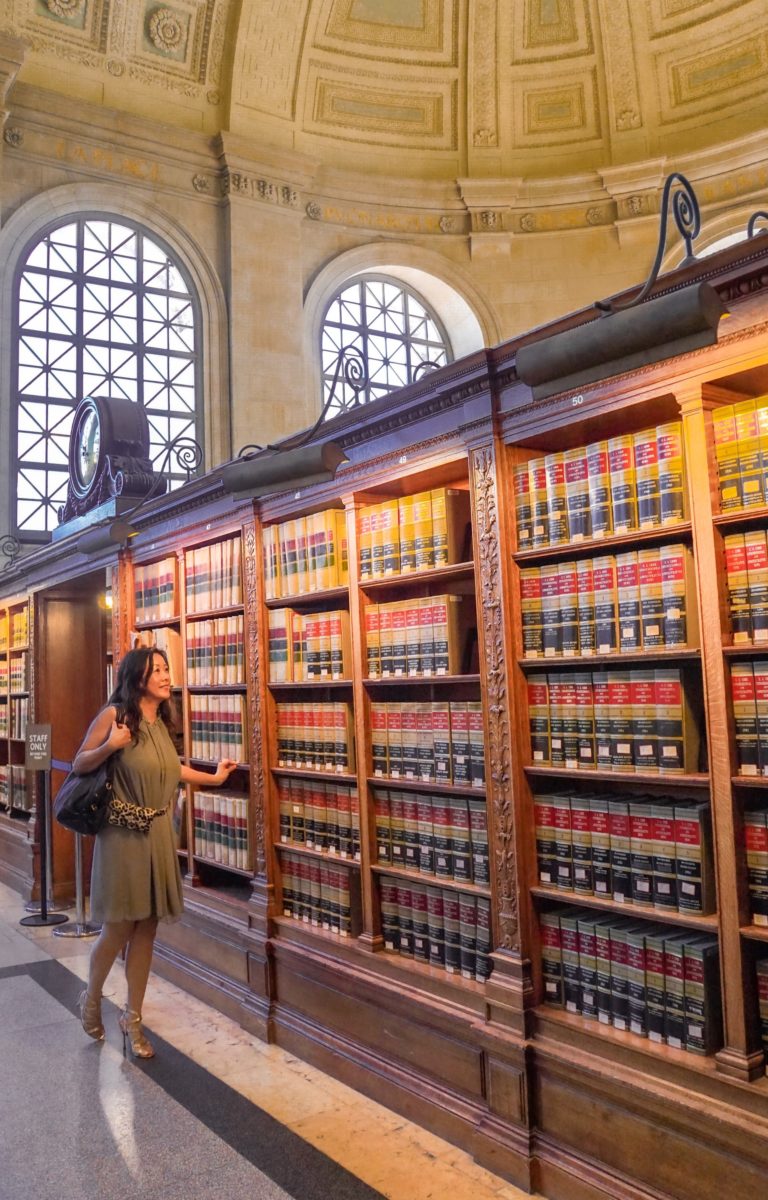 Boston loves its books
I also recently visited the Boston Public Library, which holds more than 23 million items. Established in 1848, Boston's Public Library is estimated to possess the three largest collections nationwide. These include books, maps, manuscripts, letters, drawings, and other original works dating back as early as the 10th century. Standouts are first edition folios by William Shakespeare, original music scores from Amadeus Mozart to Sergei Prokofiev's "Peter and the Wolf," as well as the personal library of President John Adams. @pblboston
BPL, as Bostonians refer to it, lays claim to the title of the "first large free municipal library in the United States." (I think the vagueness of "large" allows them to retain the title.) Today, the library sits at Copley Square. Its attractive architecture has been used for location shots for Hollywood movies. With Boston being a photogenic town and often used for filming, you probably have seen the library in the backdrop of many films and television series.
Did you know that movies "Pink Panther 2",  "The Box", and "Spotlight" (2016 Best Picture) filmed scenes at Boston Public Library (BPL)?
Bibliophiles, all hail the British Library
Another recent library visit was to the King of them all — the British Library. This is the national library of the United Kingdom, and "impressive" doesn't begin to describe it. After all, we are talking more 150 million catalogued items. The basement is 8 stories deep (!) and climate controlled for preservation.
I love the meshing of old and new. For example, three centuries of newspapers, totaling 60 million, are housed in specialty storage chambers. When a researcher orders a specific copy, a robot fetches it. And speaking of new, the British Library archives Web domains of the U.K. The oldest piece in the library collection? Chinese oracle bones that are more than 3,000 years old!  There is so much backstory to the British Library, here's a link to some curious details.
Fun fact:
Can you calculate how long it would take to view the British Library collection in its entirety if you looked at five different items every day? 80,000 years, that's how long! Yes, eighty-thousand years.
When was the last time you visited a library? Did you check out a book, conduct research, or just sit happily, surrounded by all the knowledge and resources? Have you visited any of the top 15 libraries listed here?
The World's Biggest Libraries
| Rank | Library Name | Location | Number of Items in Catalogue (Millions) |
| --- | --- | --- | --- |
| 1 | Library of Congress | Washington, D.C., United States | 164 |
| 2 | British Library | London and Boston Spa, United Kingdom | 150 |
| 3 | New York Public Library | New York, United States | 55 |
| 4 | Library and Archives Canada | Ottawa, Canada | 54 |
| 5 | Russian State Library | Moscow, Russia | 44.4 |
| 6 | National Diet Library | Tokyo and Kyoto, Japan | 41.88 |
| 7 | Bibliotheque Nationale de France | Paris, France | 40 |
| 8 | National Library of Russia | Saint Petersburg, Russia | 36.5 |
| 9 | National Library of China | Beijing, China | 36.4 |
| 10 | Royal Danish Library | Copenhagen, Denmark | 35.4 |
| 11 | Biblioteca Nacional de Espana | Madrid, Spain | 33.1 |
| 12 | German National Library | Leipzig and Frankfurt, Germany | 32.7 |
| 13 | Library of the Russian Academy of Sciences | Saint Petersburg, Russia | 26.5 |
| 14 | Berlin State Library | Berlin, Germany | 23.4 |
| 15 | Boston Public Library | Boston, United States | 22.4 |
Adding to My Personal List: George Peabody Library
Although the George Peabody Library did not make this list, if you are in the Baltimore area, make sure to visit this stunning location. Please check their business hours before you go. They close early on the weekends.
Born poor and made rich through dry goods and banking, George Peabody is credited as the father of modern-day philanthropy. His vision for a "cultural center," that included an extensive library, in Baltimore is one example of his charity. The aim of the center was to deepen intellectual and artistic resources available to residents. Peabody's plan was to include assets not available elsewhere. The George Peabody Library has 300,000 volumes in its collection, with the oldest item dating to the 15th Century. The exhibition gallery was created in 2004.
I am working my way around the world to tour them one at a time. I'll keep you posted on any new info I find.
Pin it for Later: