What happens in Vegas, stays on the record.
When you hear "Las Vegas," what comes to mind? Glitz, glamor, and gambling? Is that why you visit Vegas?
For me, I would rather #optoutside at Nevada's State and National Parks. For this recent visit, I chilled most of the time and loved visiting the Eataly, which I discovered in Munich. I am happy to see them in the U.S. now. Surprisingly, the one in Vegas wasn't as grand as one would expect from Las Vegas. The food was still good, though.
Though I am more of an outside-in-nature girl, I found a few #instaworthy spots for your next visit to Sin City. You'll enjoy checking out the following photo ops.
Las Vegas Stripped Down: National Parks, Art, and More
Aria Resort and Casino
Many people asked me if I had a hard time walking on this floor? None at all. But perhaps after a few strong drinks, it could be tricky if the beautiful pattern started to sway. I love the different optical illusions of the floor depending on your point of view.
Design plays a persuasive role in making a space memorable. This is a cute corner to check out if you love flowers. It is like a walk in the park.
You can find this instawall at #parkmgm I think you'll love it as much as I did (and still do).
Making a big art statement
The bold and brilliant pieces in Elena Bulatova Fine Art Gallery fit right in with the Las Vegas landscape. Globally recognized in her own right, Elena Bulatova uses color, size, and mixed media to define her vision. The gallery showcases other artists as well, making the space a destination for domestic and international visitors. The best part about this place is that they welcome you to take photos. Great color pops for your social media channels. I didn't take too many but rather admire the art pieces and being present in the moment. If you love art, Elena Bulatova Fine Art Gallery is a must see.
Jetting off to the Grand Canyon
If you want to treat yourself while in Vegas, how about a quick ride on a jet? To Arizona? I was treated to a Cirrus Vision Jet plane ride — complete with parachute. We flew just a few thousand feet over the rim of the Grand Canyon.
Many people asked me if it "was it scary to ride the Vision Jet?" No, it wasn't. The smaller jet flew smoothly like a regular commercial plane. I usually have some trepidation on commercial flight takeoffs and landings, but this was such a smooth experience. The interior comfort was like a BMW 7 series sedan.
You can rent the Vision Jet for a few hours, or as long as you need it, for $1,000 per flight hour adding $150 an hour for instructor time, plus jet fuel, which burns at about $300 an hour. Worth the experience, and pilot wings not required.
It's also comforting to know the plane has a giant parachute that can lower the entire aircraft safely to the ground in an emergency.
And what else?
Have an extra 48 hours in the Nevada area? There are many parks to explore. Here are some of my recommendations.
Mouse's Tank Trail hike
The 1-mile hike on the Mouse's Tank Trail to Fire Wave takes 1 hour, roundtrip. It was a pleasant walk, but I imagine it would be much less so in the heat. When I hiked, it was nice and cool around 11 a.m., but sunscreen and hats are still highly recommended. This is a beautiful hike and I really enjoyed it. I felt like I was on another planet.
Red Rock Canyon
If you have some spare time, do tour the Red Rock Canyon. A 20-minute drive from all the neon lights of the Strip, this National Conservation Area is perfect for regenerating. The calming stillness and the red, scarlet, and vermillion hues calm my spirit.
Stunning Destinations in the Southwest You Need to Visit
Seven Magic Mountains
Swiss artist Ugo Rondinone created Seven Magic Mountains, an eye-popping colorful public art installation about 10 miles south of Las Vegas off Interstate 15. It's near Jean Dry Lake and well worth the short detour.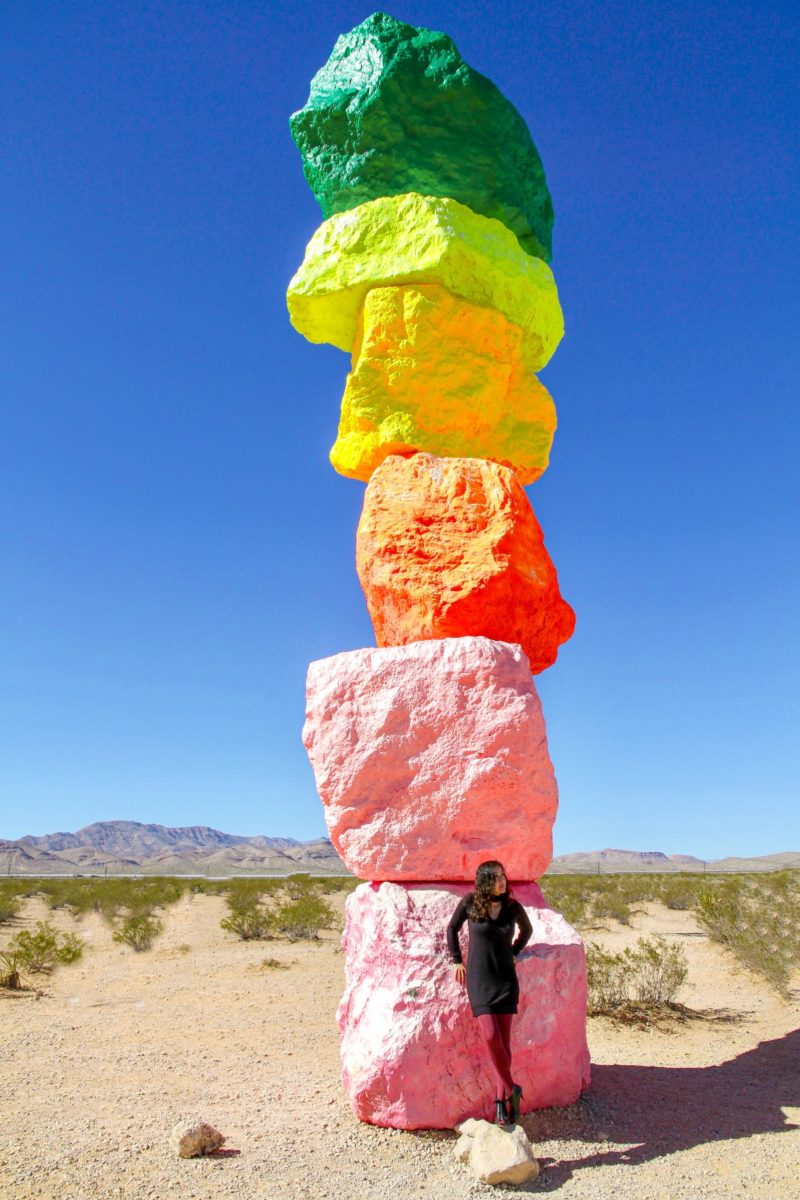 Want to do a little research on your own? You'll want to check out the Nevada State Parks Web site. Nevada has diverse geography and varying climates. I think the many options will surprise you.
There is something for everyone in Las Vegas (and Nevada for that matter). Out of Vegas' plenty of shopping, eating, spa-ing, large variety of shows and entertainment, how would you choose to spend your time? Just remember, what happens in Vegas, stays on the record.