Fall is definitely one of the best seasons to visit the Washington D.C. area. Autumn's leaves display a show that rivals the cherry blossom viewing of spring. I will provide you with the Ten Best Fall Photography spots around D.C. for taking colorful images. Some are the more popular go-to foliage photo ops, while others are less crowded making them the BEST locations to snap your finds. Plus, it's better for social distancing and you can have Mother Nature all to yourself while planning your 2021 adventure in our nation's capital.
I am often asked, "what is your favorite season?" on social media. Well, who doesn't love October? After Summer's heat subsides, I cherish the crisp weather that visits the East Coast. I love the yellow, red, orange, and pink hues that splash the trees.  When you visit my top recommendations for Instagram-worthy locations, you won't be able to put your camera down.
Where to go to kick off your leaf peeping season in DMV?
Shenandoah Park is an obvious destination, but if you want to avoid the crowds, a few other charming options for you to choose from are listed in this post. I may venture out later this month and write a separate post to update you.
The Library of Congress books an Autumn Colors show
The Library of Congress is known as one of the largest libraries in the world. It's also a great spot for leaf peepers. Don't you love the yellow leaves? Like butter! You can capture many photo opportunities just walking around D.C. Here are a few places you may want to visit whether you are hunting for Fall foliage or brushing up on your history in our Capitol.
Visiting the Library of Congress got me thinking about libraries around the world. Read about the top 15 world libraries by collection size here.
Catch the views at Harpers Ferry
Do you love hiking? Then the Harper's Ferry view is worth the climb and will give you beauty and peace. I suggest starting your hike early and bringing snacks. Freeze your water or favorite drinks the night before. They'll be perfect for drowning your thirst along the way. This view is breathtaking.
Virginia to the left, West Virginia straight ahead
Hiked up Maryland Heights Trail to this magnificent view. I was enraptured in nature overlooking Harper's Ferry. To my left is Virginia, ahead of me is West Virginia. The hike is moderate to strenuous, 4.5 to 6.5 miles, and the altitude is 800 feet above river. Allow at least 3 hours to complete. Check here for more Maryland Heights Trail details.
Drink in the Autumn colors at a vineyard
Wine at the vineyard in September or October is always a good idea. After all, it's Harvest Season. Following are a few vineyards with picture perfect landscapes for you to enjoy.
Second round at Barboursville Vineyard
Virginia has a number of excellent wineries. The 1804 Inn/Barboursville Vineyard is one of my favorites. Thanks to the Italy-based Zonin family, Virginia is for wine lovers. They are pioneers of planting European grapevines in the eastern United States. First sowing the vines in 1976 on a property whose original home was designed by Thomas Jefferson. The residence was for then-governor James Barbour; it is listed on the National Register of Historic Places. Lucky me, I got to stay in the Octagon Suite. Barboursville Vineyard produces my fave Virginia Cabernet Sauvignon. I recommend it.
Want more wine tasting? Italy may be in your future. Here are some tips, recommendations, and inspiration to make that happen.
Side dish: Luca from the Barboursville Vineyard recommended lunch at Gordonsville's BBQ Exchange. Best BBQ ever. The drive there was tranquil and picturesque. You must check out the BBQ in this town.
Georgetown gets an A in Fall Foliage
Georgetown, with its historic buildings and cobblestone streets, is the quintessential college town that dazzles the eye.
Peeping different neighborhoods
Here are some lesser known neighborhoods with great photo moments. Like lots of things, getting off the beaten track will land you some of the best surprises.
Leaf-ing at my brother's place, too
Honestly, at almost any turn in northern Virginia, there's an urge to pull over for fall photos. My brother's neighborhood is a perfect example of this. Now, I have an extra reason for visiting. Northern Virginia offers so much beauty.
A tree grows in Old Town Alexandria
Love how this cascading golden oak tree frames the brick façade of this stately home. The carpet of leaves on the sidewalk is signaling that the festivities, like Halloween, are right around the corner. Looking at this picture, I actually feel the snap of cold air on my arms.
Bridge to refueling my spirit 
The orange, yellow, and red leaves always put me in a meditative state. A welcome relief from the uber-power center of D.C. The colors combined with their graceful dance to the ground are hypnotic. #INeedNature to refuel my spirit.
D.C. — it's not just for cherry blossoms
Cherry blossoms may be D.C.'s most famous flower, and that's a good thing. Want to know why? No crowds, no jockeying for best positions when enjoying the view. Just take in the splendor of one of Mother Nature's grand shows. You can catch the bloom in any of these beautiful gardens.  I promise: You will not be disappointed. Now that I have the luxury of time, thanks COVID, I will visit these gardens over the next two months to capture the radiance of nature's glory.
And the leaves keep turning
Stay tuned … I will chase additional falling leaves Instagram-worthy locations. I think you have a good start with the above extensive list. It should keep you busy through the season.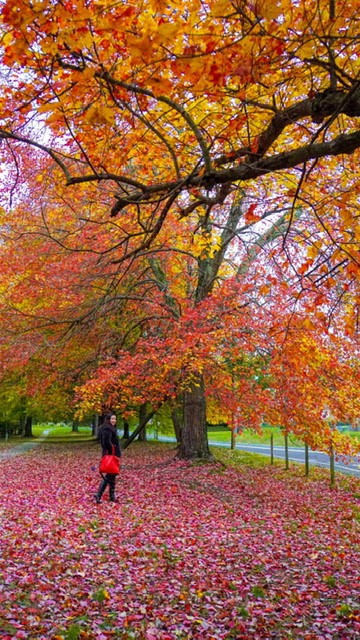 For the past decade, I have missed most of the beautiful Fall season in my hometown. I have only been here and there for a weekend before I jaunted to my next destination. Being able to fully enjoy the colors has been a silver lining in today's pandemic cloud, and I truly appreciate it.
Where to go to kick off your leaf peeping season in mid-September?
Where is this beautiful photo location? I saw this dreamy field of Bearded Beggarticks, also known as Swamp Marigolds, on an Instagram blog which read "Lake Needwood". Well, I really needed the exact location since I didn't want to perspire in my dress.
I called the park and they had no clue. I asked a local and luckily she reached out to her friends and gave me the best directions to this place. Thanks @JMDC88
Originally, I was going to enter the Rock Creek Park at Lake Needwood, and it would have been about 2 miles away and that would have been quite a trek in my long dress. Let me save you the trouble.
Plug this address into your GPS:
True Respite Brewing Company
7301 Calhoun Place, Suite 600
Rockville, MD 20855
Park at the lot and Instagram your heart out. The weather is just perfect to stroll this golden field this time of year. Grab a beer afterwards to support the locals.
After the photo shoot, we did drive by the lake to pre-scout my Fall foliage hike. This is a beautiful lake to picnic or go for a long walk.
When to catch the bloom? I would say go mid-September to kick off your leaf peeping season. I believe the bloom should last for about two weeks. Have fun!
Come back and visit for more inspirations. I look forward to your return.