It has been 2+ years since I have been to the Caribbean, those visits were part of my social media travelling. Don't know about you, but that's way too long in my book. I miss the three tropical islands of Bonaire and St. Kitts and Nevis. In my 20s, I frequented the Caribbean but shifted my focus to Europe and Asia in recent years. However, my first post-COVID flight may be to the aqua waters and soft sandy beaches of the Caribbean.
You may be interested in adding St. Kitts and Nevis along with Bonaire to your list of tropical must-vacations. Read on to learn why all the activities are so popular. First, some clarification. St. Kitts and Nevis is the name of a dual-island country. It can be kind of confusing, can't it?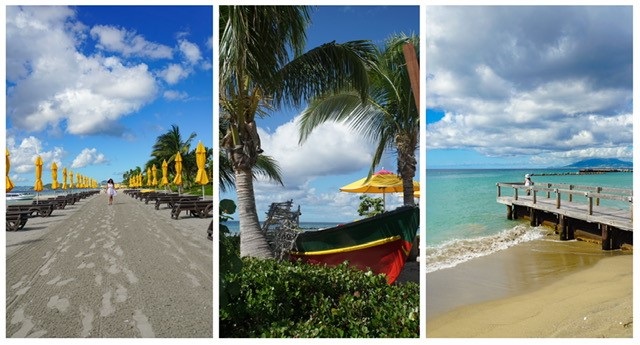 So, let's start at St. Kitts and Nevis, and then move on to Bonaire.
St. Kitts and Nevis — the Lay of the Land
Together, the two islands cover 104 square miles in the eastern Caribbean. St. Kitts is larger than Nevis, and the two are about a 20-minute boat ride apart. Their capitals are Basseterre in St. Kitts and Charlestown in Nevis. The commonwealth is famous for its cloud covered mountains as well as its beaches.
Want to Get a Leg Up on Activities?
The dormant (so far!) Mount Liamuiga volcano takes center stage in St. Kitts with its crater lake, hiking trails, and green vervet monkeys. You'll see such a variety of flora and fauna in this rainforest. In the mood for something a bit more leisurely? Many of the area's former plantations, sugar mostly, offer nice walks and a history lesson, too.
Or Pace Yourself by the Water?
I think my pace will be lounging by the pool with the palm trees. Throw in an ocean breeze, some salty air, and that'll be just enough activity for me.
There's always a picnic on the beach as a perfect way to spend Caribbean day. It'd be difficult to ask for a prettier setting. Your hotel will be happy to prepare a picnic basket for you. Not to mention recommend a scenic spot and arrange transportation.
How about sailing into the sunset? Tropical islands and gorgeous sunsets go together. I think it's a law of nature. Few things rate as high on the romance-a-meter as quiet ride off the horizon. Again, ask your favorite concierge for recommendations. They know the best outfitters.
Where to Stay?
I stayed at the Park Hyatt St. Kitts during my previous visit and was scheduled to revisit right before the pandemic lockdown. I can hardly wait to get back there.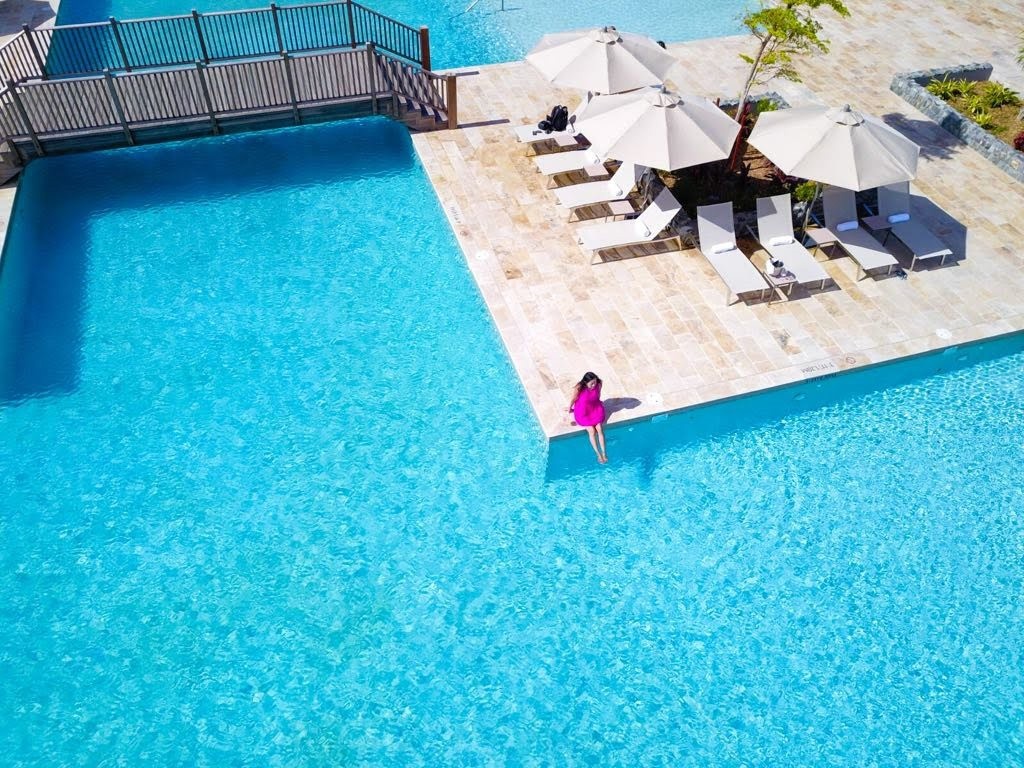 Officially called Park Hyatt St. Kitts Christophe Harbour, this gem of a resort has contemporary architecture with really spacious rooms and a proud-of-its-past vibe. Some of the rooms have private pools and decks. See why I'm excited to get back?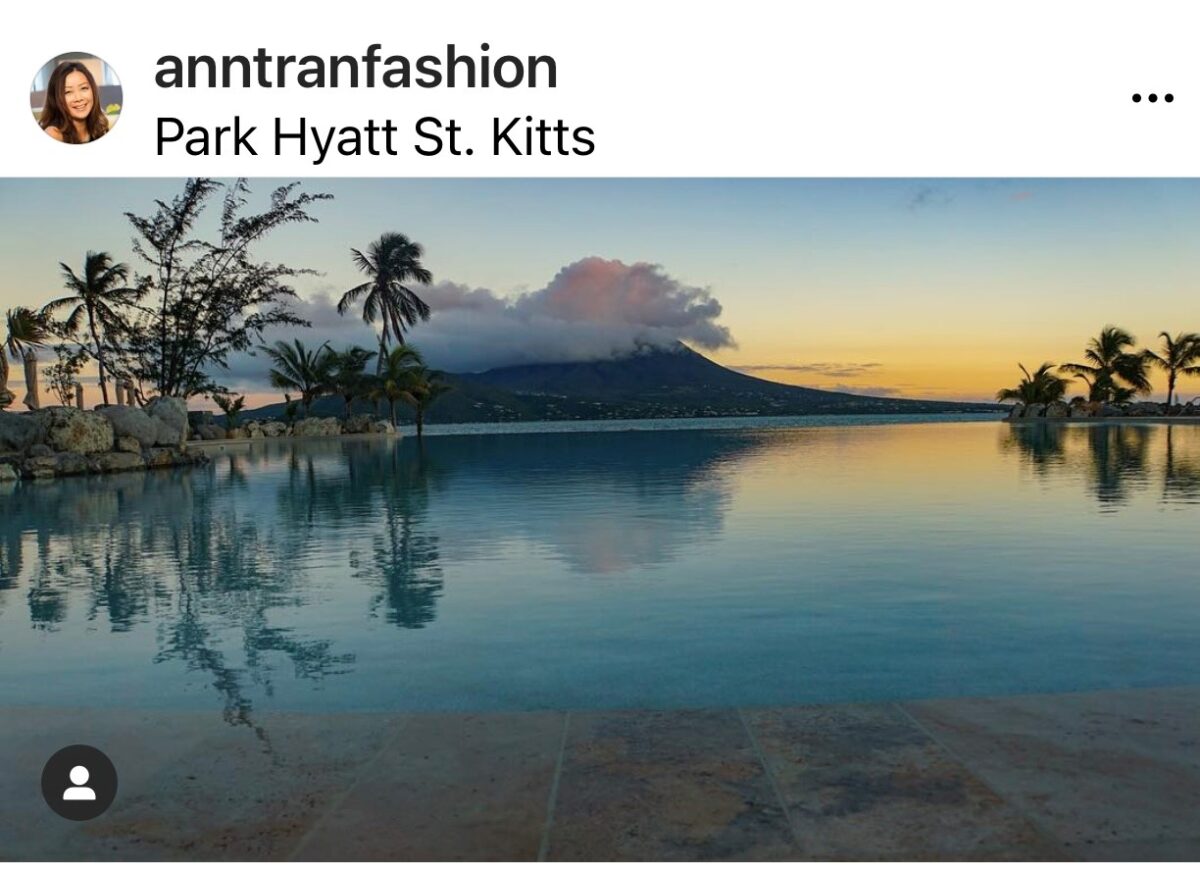 Or there's the Four Seasons Nevis. Book It! My first stay at the Four Seasons Nevis was in 2008, and again two years ago. That's when I said, "The path to paradise begins @fsnevis." The hotel has been remodeled and, well, as I told you, "I was expected to tour the renovated property March 2020. I am hoping to reschedule my revisit." I found the Four Seasons Nevis very luxurious and dripping in island hospitality. The remodel may have new choices to explore. I will report back what's new that you may want to visit.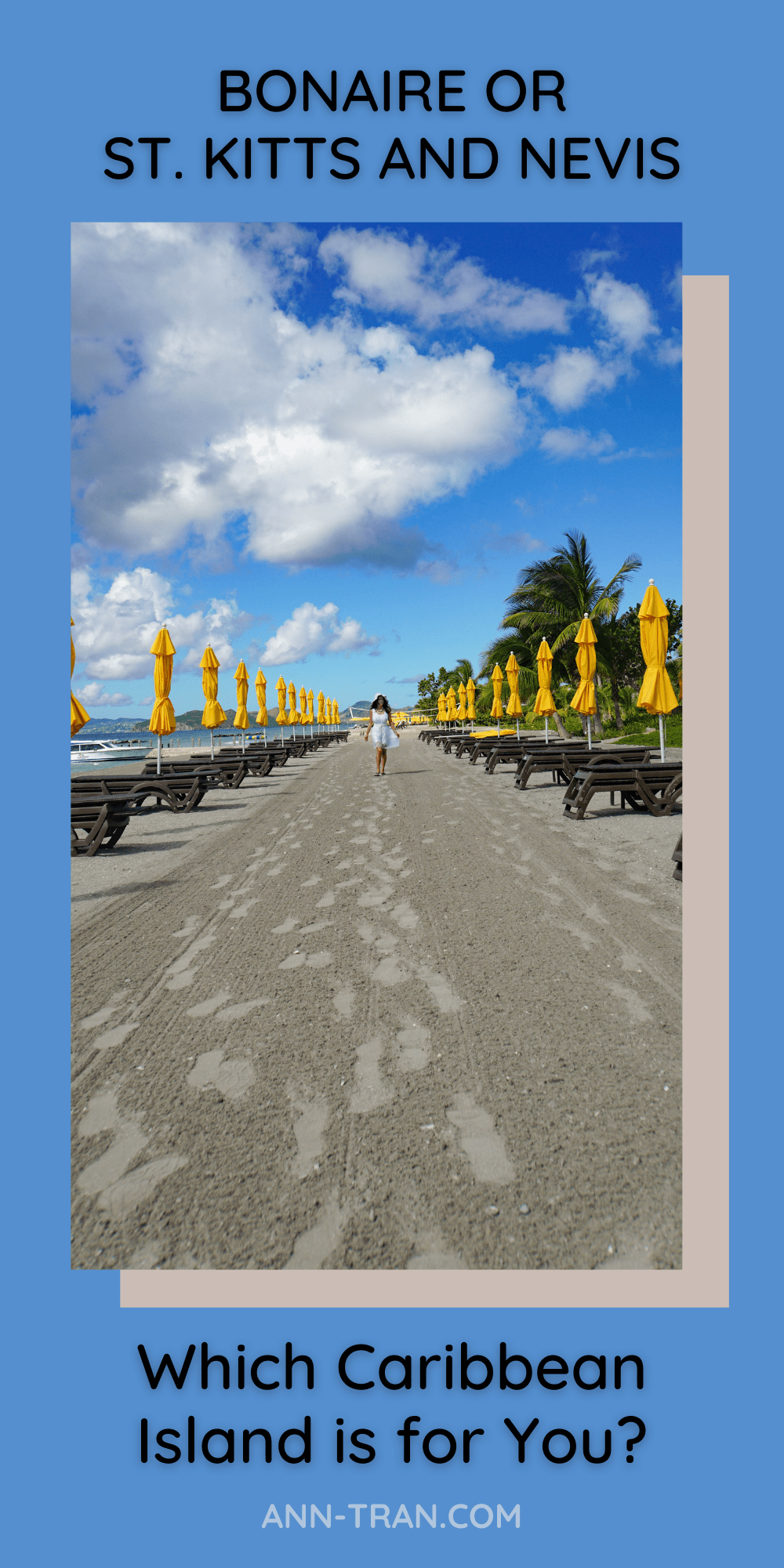 Also, want to give a hearty "Congratulations!" to the Four Seasons Nevis on their 60th Anniversary of providing first class lodging. Here's to 60 more!
Moving on to Bonaire
Situated in the southern Caribbean near Venezuela, Bonaire has a landmass of 113.5 square miles. Its capital is Kralendijk, and the city also serves as the main port. Bonaire is a municipality of The Netherlands.
Want to Dive into Some Activities?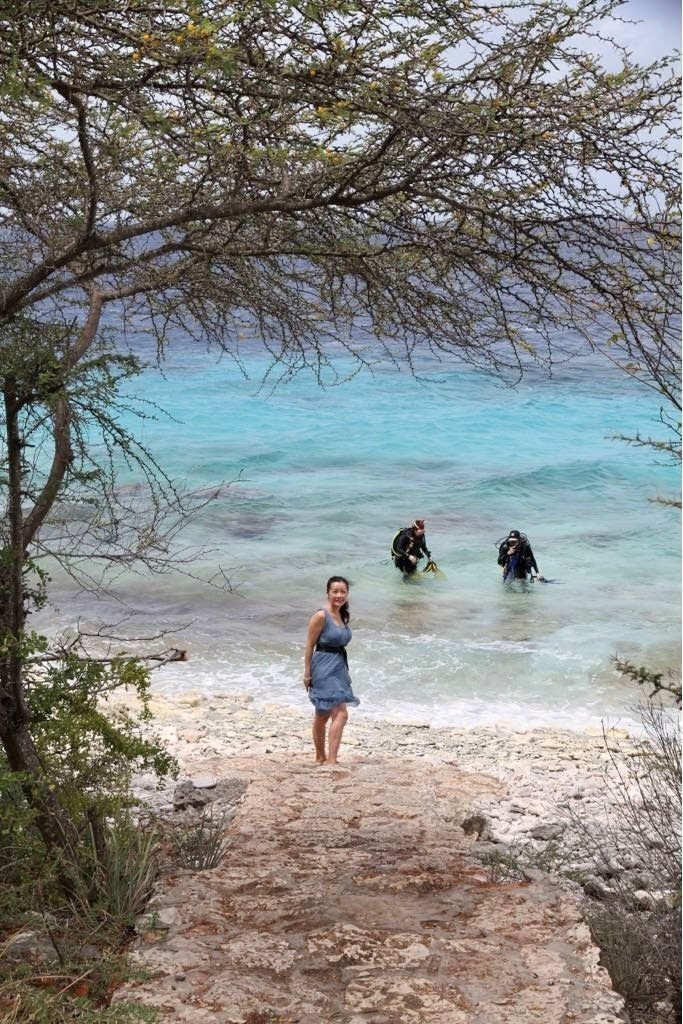 Bonaire's protection of its underwater sites is well known and one reason this island is popular around the globe for snorkeling and SCUBA diving. Literally, diving excursions are available every day, every hour of the day. The tourism board reports the waters are home to more the 350 fish species and 57 species of soft and stony coral. There is something for everybody!
If Staying on Land is More Your Thing
Kralendijk is a perfect place for people watching and browsing the shops. There are organized walking tours, too, if you'd like to explore with a guide. Be sure to make time to enjoy an ice blended coffee while being serenaded by seagulls.
Have you tried landsailing? It's a beach activity using an adult-sized tricycle fueled by the wind and a large sail. In Dutch, landsailing translates as blokarting.
Check out the island's birds and reptiles at Washington Slagbaai National Park. You'll see parakeets, flamingos, and parrots as well as iguanas and turtles. It's a big park, 5,643 hectares, and maybe you'll get to see some turtles nesting.
My favorite corner on Bonaire was Sorobon Beach, Wellness & Windsurf Resort. It's tucked away at Lac Bay and the lunch menu was a perfect balance of nutrition and deliciousness. You can watch some blokarting too.
Where to Stay?
Four words: Harbour Village Beach Club. Love how this resort is described as "capturing the barefoot elegance of the Dutch Caribbean." This white sand retreat is on a private parcel of beach and appeals to sun worshippers, land lubbers, sea dogs, and everything in between.
Bonaire for the Win
If you love all kinds of amazing water activities, living at the beach, eating great food, and meeting super friendly people, then consider making Bonaire your destination of choice. If you dislike crowds and cookie-cutter resorts, add that to the list of why Bonaire is the place for you. Bonaire is a hidden Caribbean gem that I will return to again and again. As soon as I can.
COVID Matters
Like the rest of the world, Caribbean nations are figuring out how best to deal with COVID. Rules and regulations change daily and by country. It's good to note, though, in general Caribbean countries are very welcoming to American visitors. Most likely you will need proof of a recent negative COVID-19 test. Read more specifics on travel in the age of COVID here. Remember, every day brings lots of changes. Remember to pack a lot of patience. Don't leave home without it. Read what the Wall Street Journal has to say on COVID and the Caribbean here.
For me, summer means happy times, good sunshine, and a cold tropical smoothie. What is your idea of Summer perfection? Please share, I always am on the hunt for something new.
Stay safe! See you on the road soon.